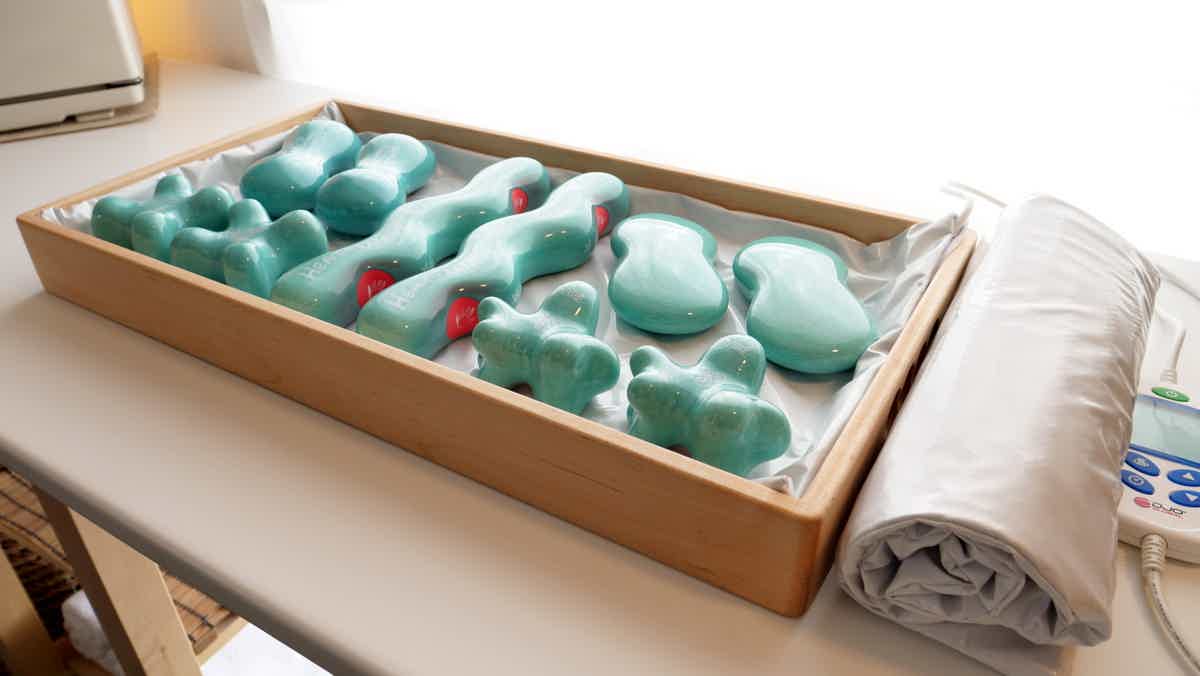 If you're like so many professionals, you've either endured the hassle of using Hot Water to heat your Stones, or you've simply wrote off using Hot Stones altogether because HOT WATER can be such a hassel. The time it takes to set-up, dealing with spills, noise, extra cleanup and often times scalding hot water was worth it because Hot Stones are Amazing! But while Hot-Water is an acceptable and widely used heating method, we decided to stop burning our fingertips and design a better system from the counter up.
Our Water-Free Systems include everything you need to transform your Spa or Studio. Cleanly and conveniently heat your CORE or ADVANCED Stone Set and offer the Ultra-Relaxing and Therapeutic SYNERGY STONE Hot Stone massage treatments without the hassles of using hot water. Here's a list of the benefits you'll enjoy with either of our Water-Free Systems:
1) Pre-Heat is simple. Just press a button. WATER-FREE lets you spend less time setting up and more time for yourself between appointments.
2) During massage, No dipping your hands into uncomfortably HOT Water over and over. Simply exchange Stones by lifting one edge of the top heating pad.
3) Fast and Quiet Stone swapping. WATER-FREE means no more clanking noise or having to dry your hands and stones every time you swap stones. Less time Swapping = More time with your client.
4) Quick and easy clean up. Between clients, simply spray Stones and Pads with a natural disinfectant/cleaner and wipe dry. WATER-FREE means you save precious time between appointments and at end of day.
5) Attractive and professional. Our Water-Free Systems are beautiful and add a warm and professional look to any massage room.
- A Professional Set of SYNERGY STONES. Choose between a CORE or ADVANCED Set. Then choose your favorite color.
-1 or 2 TheraTherm 14x27" Heating Pads. Heating your SYNERGY STONE's between 1 or 2(depending on if the CORE or ADVANCED System), TheraTherm Heating pads is convenient and hassle free.
- A Hand-Crafted Wood Tray. Attractive and Sturdy, each Water-Free System includes a custom wood Tray to perfectly hold, display and store your SYNERGY STONE System.
- Oil-Proof Heating Pad Covers. While using your SYNERGY STONES with Oil, Cream or Gel, our Oil-Proof heating pad covers work to protect from oils from soaking into your heating pads and to make cleaning between sessions quick and easy.
- Felt Heating Pad Covers. If you are choosing the Ultra-Smooth SYNERGY STONES to be used without oils, the Felt heating pad covers work to provide a soft and quiet surface. Perfect for Clothed Table or Chair Massage.